Your journey
A relaxed journey to your event is the first step towards a successful function. The superb location of the Lorzensaal Cham means that your guests have the best possible chance of arriving in excellent mood.
Bauarbeiten an der Seestrasse > Umfahrung bis Ende Februar 2019

Aufgrund Bauarbeiten an der Seestrasse ist die Zufahrt zum Lorzensaal Cham - insbesondere die Anlieferung - bis Ende Februar eingeschränkt. Die Zufahrt zum Parkhaus Lorze sowie Dorfplatz ist jeder Zeit möglich. Der Verkehr für die Anlieferung wird wie folgt umgeleitet bzw. organisiert:
Die Zufahrt zum Lorzensaal Anlieferung (Bühneneingang) und die Goldmatt erfolgen von der Zugerstrasse über die Seehofstrasse. Die Poller bei der Brücke über die Lorze werden während den Bauarbeiten entfernt, um die Durchfahrt für den Verkehr zu ermöglichen.
Die Zufahrt zum Parkhaus Lorze ist ab der Luzernerstrasse möglich. Aufgrund der Bauarbeiten muss die Zufahrt jedoch zeitweise auf eine Fahrspur eingeschränkt werden. Während den entsprechenden Zeiträumen wird der Verkehr jeweils durch einen Verkehrsdienst geregelt.
Der Fussgängerverkehr ist während der gesamten Bauzeit gewährleistet und wird über den nördlichen Gehweg der Seestrasse geführt.
Private Ein-/Ausfahrten, sowie private Hauszugänge werden während der gesamten Bauzeit gewährleistet.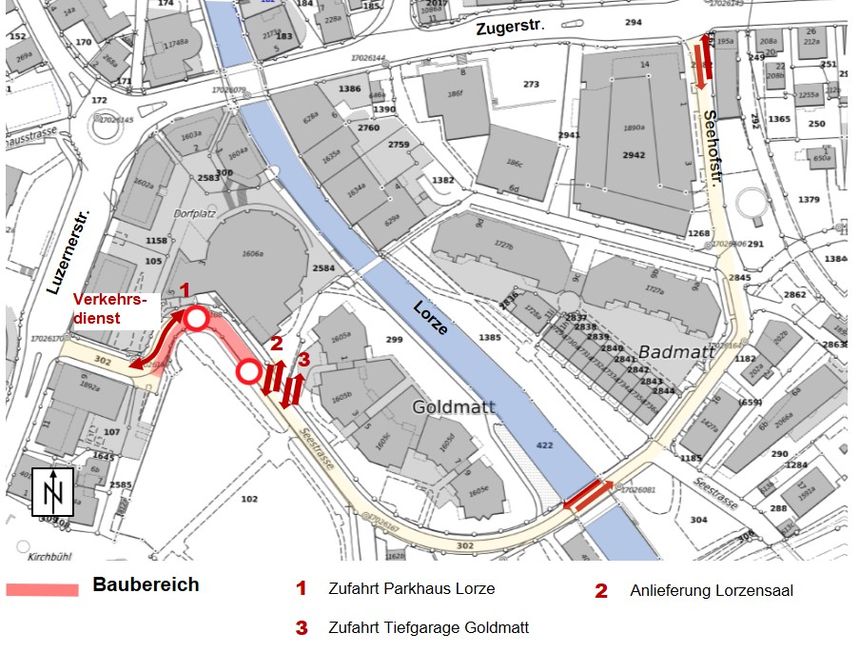 Arriving by public transport is the quickest way to get here. Zugerland transport service buses stop right by the front door; from the train station ‒ with good connections to and from Zurich and Lucerne ‒ it only takes four minutes to walk, and only one minute longer from the boat embarkation point on Lake Zug.
>> ZVB bus timetable
>> SBB train timetable
You and your guests can benefit from excellent local infrastructure, thanks to the superb location of the Lorzensaal Cham. The Lorze car park is located in the basement directly underneath, and further public car parks are located in the immediate vicinity.
Car parks in Cham
Parkhaus Lorze
Parkhaus Mandelhof
Parkhaus Rigiplatz
Parkhaus Büel
Parkhaus Seehof, Coop Shopping Centre
Parkhaus Neudorf-Center

Prices for the Parkhaus Lorze
| | |
| --- | --- |
| 15 to 30 minutes | Fr. 1.00 |
| 1 hour | Fr. 1.50 |
| 1 ½ hours | Fr. 2.00 |
| 2 hours | Fr. 2.50 |
| 2 ½ hours | Fr. 3.00 |
| 3 hours | Fr. 3.50 |
| 4 hours | Fr. 5.50 |
| 5 hours | Fr. 7.50 |
| 6 hours | Fr. 9.50 |
| 7 hours | Fr. 11.50 |
| 8 hours | Fr. 13.50 |
| 9 hours | Fr. 15.50 |
| 10 hours | Fr. 17.50 |
| each additional hour | Fr. 2.00 |
| Maximum tariff 24 hours | Fr. 20.00 |
| | |
| Night tariff from 10.00 pm to 7.00 am | Fr. 0.50 / hour |
Prices are VAT-inclusive. VAT number CHE-479.526.333
Opening times: Daily 24 hours
Lost tickets: The charge if the ticket is lost is CHF 20.00. In these circumstances, please select the "lost ticket" ("Ticketverlust") button on the automatic ticket machine.
Liability and surveillance: The use of the Lorze car park is at your own risk. For the purposes of safety and control, number plate recognition and security cameras are deployed. Damage to and misuse of the systems and devices will be reported to the authorities.
Trouble shooting: Please use the call button on the automatic pay machines, or at the entrance or exit.